Find trolls in the Norwegian mountains
Rallarvegen, Norway
Season: mid-July-mid-September
Difficulty: 2/5
The Rallarvegen road was used by workers when a railway line from Oslo to Bergen was built at the beginning of the 20th century. The technical path would not be needed if cyclists did not reach fabulous places. Now the 82-kilometer Rallarvegen is the most popular cycling route in Norway. Snow-capped mountains, green forests, clear rivers, lakes and waterfalls – the northern beauties will take your breath.
Theoretically, the entire route can be covered in a day, but it is better to stretch the pleasure for at least two or three days. The Rallarvegen road starts from the Haugastel station at an altitude of a thousand meters, rises another 343 meters to the lake, and then rushes down to the very fjord. In some places, the path is so steep that you want to walk it, even if you are moving in the right direction – from top to bottom. In July and August, there are still snowfields right on the road, but overcoming them is more fun than difficult. Bicycles are rented at the stations of Haugastel, Finse and Myrdal, and returned at the end of the route – in Flåm.
Go on an ecotour through ancient Russian cities
Golden ring
Season: May—September
Difficulty: 1/5
Riding through the cities of the Golden Ring, you see not only the walls of the Kremlin, but also the dense forests that surround them. You wind along quiet paths and suddenly, as in a fairy tale, you taxi out to a sunny meadow. You can hear birds singing and grasshoppers chirping. You absorb the aromas of flowering daisies and ripe Antonov apples and fully feel how subtly harmonize ancient Russian cities with nature.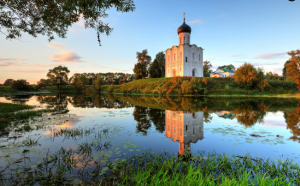 There are plenty of cycle routes along the Golden Ring. If you want – for the weekend, with a stop in a cozy house with a bathhouse, if you want – for two or three weeks with tents. An important nuance: in Russia, outside the two capitals, they have not heard of bike paths, so it's better to choose not the main roads, but the secondary ones, so as not to push among the cars. Part of the way you can even drive along idyllic paths through fields and forests. Experienced cyclists sit over the map and come up with the route themselves. And beginners often join companies with a ready route. You can find one on forums like Velomania. Another option is an organized tour, which recruits participants from different countries. You will have a great chance not only to ride in beautiful places, but also to improve your English among museums with felt boots and enamel.
Visit medieval castles and sip wine
Loire Valley, France
Season: April—October
Difficulty: 1/5
rural roads with pastoral views, vineyards, charming towns and villages, incredible cuisine – that's what it's like to cycle through the valley of the longest French river. The entire route along the Loire is 800 km. You can choose any piece and come for at least a couple of days: ride between a couple of cities and look at the famous castles of the Loire surrounded by well-groomed gardens.
There are almost no climbs along the way, so even families with children can ride along the Loire Valley. You can bring your own bicycles, but it is even more convenient to rent them at one of the Detours de Loire points. You can return them to another city – where you end the route. Do not put too many things in your bag: firstly, it will be heavy, and secondly, goat cheeses and pink Angevin wine, which you will buy on the way anyway, will not fit.